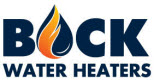 In 1929, Oscar Bock, a young engineer, inventor and entrepreneur established a manufacturing company bearing his name to produce products of his invention. The young company soon began manufacturing oil burners in response to the escalating use of heating oil as an energy source in lieu of coal. Within a few years, his company was manufacturing gas and oil-fired water heaters and eventually discontinued the production of oil burners. Over time, the company grew to become North America's largest manufacturer of oil-fired water heaters and a leading producer of residential indirect and commercial gas water heaters. As the company grew it earned a reputation for building robust products of unsurpassed quality. Today, Bock Water Heaters, Inc. manufactures water heaters designed to operate on any fuel (solar, geothermal, natural gas, propane, oil and electricity) and offers a large portfolio of indirect water heaters and storage tanks.
Please visit bockwaterheaters.com for more information.
Bock Products
Please click HERE to view Bock Product Resources.